Afghan press cautious on security transfer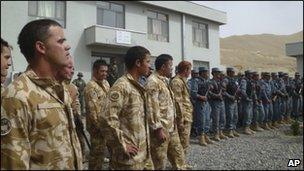 The Afghan press has given a guarded welcome to the transfer of security from foreign forces in the central province of Bamiyan.
Some papers observed that the Afghan security forces had neither heavy equipment nor the public's confidence and that this could lead to the country falling prey to international terrorism.
Others, however, said that although problems remained, the transition was a positive step for the country.
It's been proved that the current government is not able to meet the people's demands and needs. In such a situation, the way the transition process has begun now could cause massive problems. Currently, our military and security forces do not have heavy weapons and confidence in the ranks of the army and police is not strong, so it was necessary to address these problems before the start of the transition programme.
EDITORIAL IN ARMAN-E MELLI (CLOSE TO NATIONAL UNION OF AFGHANISTAN'S JOURNALISTS)
It is obvious that Afghanistan needs an air force, armoured and logistical equipment, artillery weapons, a reconnaissance and air defence system, and if these needs are not met, it would not be wise to hand over security to the Afghan defence forces which would result in the country falling into the hands of global terrorism.
EDITORIAL IN PRO-GOVERNMENT WEESA
We must admit now that Afghanistan and its defence officials are facing huge problems. First of all, the security forces must feel that safeguarding the country is their task and not that of the foreign forces. If Afghans themselves do not defend their national and religious values, integrity and homeland, they will never enjoy a dignified life... Although this process of handing over security has a symbolic form, we still see it as a good omen.
Afghan forces have officially taken over security from Nato forces in Bamiyan province, news which is both pleasing and worrying at the same time. This is because no unit of the Afghan National Army has been based in Bamiyan yet and local officials are saying that the police forces present there are also insufficient... Anyway, efforts towards building good governance… are a binding commitment of the transition process and we hope that government officials will pay attention to it.
EDITORIAL IN STATE-RUN HEWAD
The Afghan government cordially welcomes the transition process and local forces enjoy strong morale and high confidence to take over security… The transition process demonstrates the clear approach of the Afghan government… any terrorist attacks, armed rebellion and ill-omened attempts by internal and external circles and Afghanistan's historic and arch enemies will not create obstacles in this process.
The transfer of security to the national forces is a positive and valuable step and is the aspiration of the Afghan government and people... The time has now come to deal with the weaknesses, gaps and shortcomings we are very familiar with and strive for a bright and certain future.
BBC Monitoring selects and translates news from radio, television, press, news agencies and the internet from 150 countries in more than 70 languages. It is based in Caversham, UK, and has several bureaux abroad.