Taliban blames US for Mullah Omar death reports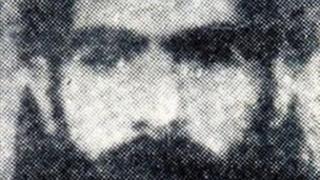 Two Taliban spokesmen have said their phones had been hacked and messages sent out that their leader Mullah Omar was dead, media reports say.
One of the spokesmen Zabihullah Mujahid told Reuters that the "Americans have hacked our cellphones with advanced technology and sent the messages".
The death was reported in May by media including an Afghan TV channel.
A US official told the BBC: "A lot of people - in a lot of places - don't like the Taliban."
Pakistani officials had dismissed the reports.
Mullah Omar has evaded capture, despite one of the largest manhunts and is believed to be guiding the resurgent Taliban.
The AFP news agency said that a message went out from Zabihullah Mujahid's phone announcing the death of Mullah Omar.
The spokesman denied this, and said the Taliban would take "revenge on the telephone network providers".
A second spokesman, Qari Yosuf Ahmadi, also told AFP that phones had been hacked.
"That's a false message. The Westerners hacked into our cellphones and sent the message from our numbers to everyone. They want to deceive the Afghan people. It's wrong. [Omar] is not dead and is alive," he said.