Pakistan Balochistan bomb explosion in Quetta kills two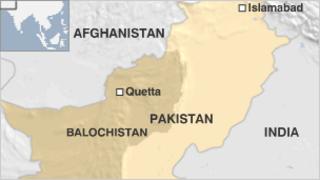 Two people have been killed when a bomb planted in a garbage dump exploded in the western Pakistani city of Quetta, provincial officials say.
The blast took place in Hazar Ganji area, some 20km (12 miles) west of the city centre.
Officials said three others were wounded in the attack.
Militants linked to al-Qaeda and Taliban, as well as ethnic Baloch militants, are active in the province which borders Afghanistan.
On Saturday, 11 Shia Muslims died in a suspected sectarian attack in Quetta.
A day earlier, seven Shia pilgrims were killed in a similar attack in the city.