Nato troops killed in attacks in eastern Afghanistan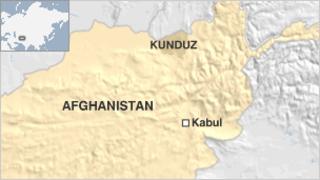 A Nato soldier has been shot dead in eastern Afghanistan by a man dressed in police uniform, officials say.
It is the latest in a series of such attacks and is being investigated.
Elsewhere in the east, another Nato soldier died in an insurgent attack, the alliance said. Neither soldier's nationality has been released.
Separately, an Afghan intelligence officer was killed when his vehicle struck a roadside bomb in the north-eastern province of Kunduz.
Afghan and Nato officials have given few details of the shooting incident in the east - it was not immediately clear if the attacker was a serving member of the police or an insurgent dressed in police uniform.
Last year an Afghan border policemen shot dead six Americans during a training mission in the same area. He was than shot dead by US soldiers.
Attacks by rogue soldiers and Taliban infiltrators are yet another challenge to Nato's mission in Afghanistan, the BBC's Bilal Sarwary in Kabul says.
Such attacks undermine confidence in the country's security institutions and create mistrust between Afghan and international forces, our correspondent says.
The blast in Kunduz killed Payenda Khan, a district head of the national directorate of security in Kunduz city.
Three civilians were also reported to have been injured in the explosion.
The attack comes just two days after three security guards were killed in a suicide bombing in Kunduz city.
Kunduz province was once a relatively quiet part of the country but has become more unstable in recent months.