India: Sinking ship causes oil slick near Mumbai coast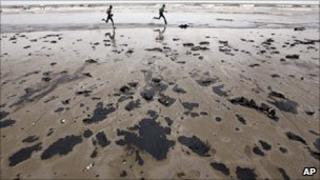 Indian coast guard ships and pollution control authorities are working to clean up an oil slick off India's western coast.
The leak occurred in the merchant ship MV Rak which sank near the Mumbai (Bombay) coast last Thursday.
The vessel was carrying a cargo of coal and was travelling from Indonesia to the western Indian state of Gujarat.
Indian navy and coast guard helicopters rescued the 30 crew members before the ship sank.
The MV Rak sank about 23 miles (37km) from the Mumbai coast last Thursday.
"Since Saturday night, oil has been observed leaking from the sunken vessel at an approximate rate of 1.5 to 2 tonnes per hour. The oil has spread to about seven nautical miles [eight miles] around the vessel," a defence ministry release said.
The vessel reportedly contained some 340 tonnes of fuel.
Officials have described it as a "minor spill", and that "there is no immediate threat to the Mumbai coast from this oil".
"There is no cause for panic", a statement issued by the government of Maharashtra said.
In January, a leaking oil and gas pipeline caused a mile-long slick off the Mumbai coast.
The leak was plugged after two hours and about 25,000 barrels of oil was lost.
Last August, a tanker collided with a ship off Mumbai, spilling about 500 tonnes of oil into the Arabian Sea.