India corruption: Protests swell in support of Hazare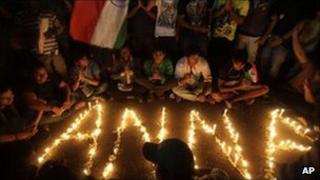 Tens of thousands of Indians have poured onto streets across the country in support of the jailed anti-corruption crusader Anna Hazare.
Hundreds are keeping a vigil outside the high-security prison in Delhi where Mr Hazare was taken on Tuesday.
At the capital's iconic India Gate, thousands shouted slogans and held placards demanding he be freed and that the government act on corruption.
Protests were held in Mumbai, Chennai, Bangalore, Calcutta and elsewhere.
The authorities had offered to free the 74-year-old but he refused to leave Tihar prison, where he has vowed to remain unless he can resume the public protest stopped by his arrest on Tuesday.
The campaigner and at least 1,200 of his supporters were arrested at the capital's JP Park, hours before he was due to begin his "fast unto death".
'Hail Mother India'
Outside the prison, many protesters carried the Indian flag and shouted "Down with corruption" and "Hail Mother India".
There were also reports of large demonstrations in Chandigarh, Hyderabad, Ahmedabad, Amritsar, Bhubaneshwar and in the north-eastern state of Assam.
Supreme Court lawyers have announced they will march to show their support for Mr Hazare, while auto-rickshaw drivers have gone on strike.
Indian Prime Minister Manmohan Singh has accused Mr Hazare of trying to circumvent democracy by demanding the overhaul of an anti-corruption bill.
The prime minister told parliament Mr Hazare's hunger strike was "totally misconceived", but his speech was constantly interrupted by opposition MPs, many of whom jeered and shouted "shame".
The spontaneous outbreak of public support is a matter of deep concern for Mr Singh's administration, says the BBC's Sanjoy Majumder in the capital.
The Congress-led government denied it was stifling a democratic protest, saying the protesters had been detained because they had not accepted the police's restrictions on the number of fasting days and participants.
Indian Law Minister Salman Khurshid said the government respected the right to dissent, but told BBC World News that the rule of law also needed to be respected.
He also acknowledged that the bill at the centre of the corruption controversy as it stands is flawed.
'Cruel joke'
Mr Hazare is reported to have spent Tuesday night at one of the rooms in the administrative block of Tihar jail, where he was reportedly determined to continue to his hunger strike.
He has called the proposed anti-corruption legislation a "cruel joke" and has described the fight against corruption as the "second war of independence".
In April, he called off a hunger strike after four days when the government said he could help draft legislation to create a special ombudsman, or lokpal, an independent body with the power to investigate politicians and civil servants suspected of corruption.
The final version of the bill was presented in early August, but Mr Hazare and other activists rejected it because the prime minister and senior judges would be exempt from scrutiny.
India has recently been hit by a string of high-profile corruption scandals including a telecoms bribery scam that may have cost the government $39bn (£23bn), alleged financial malpractice in connection with the Delhi 2010 Commonwealth Games, and allegations that homes for war widows were diverted to civil servants.
Critics of the government say the scandals point to a pervasive culture of corruption in Mr Singh's administration.
A recent survey said corruption in Asia's third largest economy had cost billions of dollars and threatened to derail growth.