India corruption: Government meets Hazare supporters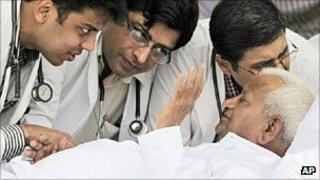 The Indian government has held its first talks with supporters of fasting activist Anna Hazare about an anti-corruption bill he wants strengthened.
Mr Hazare, who has been on hunger strike for a week, has lost more than 5kg (11lbs), his supporters say.
Thousands of his followers have gathered at Ramlila grounds in Delhi to watch him fast. Hundreds have also protested outside ministers' homes.
A parliamentary committee meeting has been called to discuss the issue.
Prime Minister Manmohan Singh has invited all party leaders to meet on Wednesday to find a consensus to deal with the demands of anti-corruption activists. He has maintained that he is open to talks.
He has asked his Finance Minister, Pranab Mukherjee, to negotiate with the activists.
In a letter addressed to Mr Hazare, the prime minister wrote that he was committed to drawing up the best possible law, and to do it as quickly as possible.
"Over the last few days, I have watched with increasing concern the state of your health. Despite the differences between the government and your team, I do not think that anybody is or should be in any doubt about the deep and abiding concern which I and our government share about your health, arising from your continuing fast," he wrote.
Mr Hazare's aide, Gaurav Bakshi, said his physical condition was already causing concern.
"There's a lot of weakness that's coming into his system. It started off yesterday, it was visible. We went back in early, he retired earlier than the usual time. So his health is starting to move into an area that could become critical," he said.
Earlier on Tuesday, another aide, Arvind Kejriwal, said Mr Hazare was now ready to speak to "responsible people" from the government.
He said the talks should be over the differences between the government's anti-corruption bill, and the one that has been drafted by Mr Hazare and his aides.
In April, Mr Hazare called off a hunger strike after four days when the government said he could help draft legislation to create a special ombudsman, or lokpal, an independent body with the power to investigate politicians and civil servants suspected of corruption.
The final version of the bill was presented in early August, but Mr Hazare and other activists rejected it because the prime minister and senior judges would be exempt from scrutiny.
Mr Kejriwal also denied media reports Mr Hazare was insisting on speaking only to the prime minister or the ruling Congress party's general secretary, Rahul Gandhi. He said there could only be a "political solution".
'Crusade'
The former speaker of parliament, Somnath Chatterjee, told the CNN-IBN TV news channel that Mr Hazare's protest had become a "crusade" against Mr Singh and his government.
The government's response to Mr Hazare's protest has also been criticised by many as heavy-handed.
His arrest last Tuesday, hours before he was to start his public fast, sparked mass protests across India.
He initially refused the government's offer to release him unless he was permitted to continue without restrictions.
Mr Hazare was finally released from Tihar jail on Friday after he agreed to a police offer permitting him to go on hunger strike for 15 days.
India has recently been hit by a string of high-profile corruption scandals which critics say is evidence of a pervasive culture of corruption in Mr Singh's administration.
A recent survey said corruption in Asia's third largest economy had cost billions of dollars and threatened to derail growth.