Kidnap fears grow for Germans missing in Afghanistan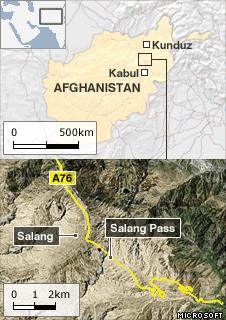 Fears are growing that two German men missing in Afghanistan may have been kidnapped, Germany's foreign minister says.
Guido Westerwelle said there were "indications that they may have been the victims of kidnapping" and that German and Afghan officials were "intensively" searching for the pair.
He declined to give any details about the identity of the individuals.
The pair vanished near the Salang Pass, north of Kabul, on Friday.
They told their driver they were heading into the mountains and when they failed to return he raised the alarm.
Both men are said to have been working for an aid organisation.
Kidnapping is a lucrative business in Afghanistan. In recent years locals and foreigners alike have been abducted by Taliban-linked insurgents and criminals with financial motives.
But the Taliban are not thought to be active in this major route through the Hindu Kush mountains.
"It is not a Taliban area," said General Sher Ahmad Maladani, police chief of Afghanistan's northwest Parwan province. "It is one of the safest areas of Afghanistan."
Germany contributes one of the largest contingents of foreign troops in Afghanistan, with some 5,400 soldiers deployed under Nato's command.