Indian court acquits Muslims of Haren Pandya murder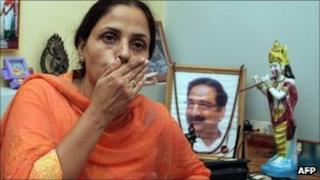 The high court in India's Gujarat state has overturned the convictions of 12 Muslims in connection with the killing of the state's former home minister.
The judges said the investigation into the killing of the politician, Haren Pandya, had been "botched".
Nine of the men convicted over his killing were sentenced to life in jail. The others were serving shorter terms.
Prosecutors argued Mr Pandya was killed in revenge for the 2002 Gujarat riots in which more than 1,000 Muslims died.
The state government in Gujarat was heavily criticised for failing to protect the state's Muslims from Hindu mobs during the rioting.
'Loopholes'
Mr Pandya was shot in broad daylight in a park in Gujarat's commercial centre, Ahmedabad, in March 2003.
He was a leading figure in the governing Hindu-nationalist Bharatiya Janata Party (BJP) in Gujarat and a senior member of the right-wing Hindu organisation, the RSS.
The 12 Muslim men were also accused in an attack on a Hindu hardline leader, Jagdish Tiwari, on the same day.
Prosecutors had merged the two cases, saying they were part of a "larger conspiracy" to avenge the riots.
Gujarat's high court found the men guilty of "criminal conspiracy" and "attempt to murder" in Mr Tiwari's case.
Mr Pandya was reported to have had bitter differences with Gujarat Chief Minister Narendra Modi.
Mr Pandya's wife - Jagruti Harenbhai Pandya - had demanded a re-investigation into the murder, saying there were "loopholes" in the investigation.