Indian activist Anna Hazare returns home after fast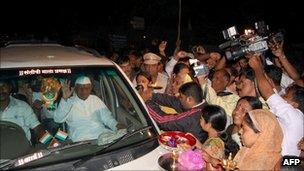 Indian anti-corruption campaigner Anna Hazare has returned to his village three days after he ended a 12-day hunger strike in the capital, Delhi.
Mr Hazare arrived at Ralegan Siddhi in Maharashtra after he was released from a Delhi hospital on Wednesday.
The 74-year-old broke his fast after MPs expressed support for proposed changes to anti-corruption legislation.
Indians have been angered by a string of corruption scandals and Mr Hazare's campaign received widespread support.
Hundreds of villagers greeted Mr Hazare when he arrived at Ralegan Siddhi late on Wednesday, reports say.
Once impoverished, plagued by drought and other problems found in large swathes of rural India, Ralegan Siddhi is now described as a model village by the World Bank after a series of conservation and development projects launched by Mr Hazare over the past decades.
Mr Hazare lost more than 7kg (15lb) in weight during his hunger strike, his longest ever.
"Anna's health is excellent now. He is eating normal food again," Vibhav Kumar, one of his spokesmen, told the AFP news agency.
Earlier, doctors said Mr Hazare had been discharged as his condition is "near normal".
"He showed remarkable improvement and took solid diet for the first time in more than a fortnight [on Wednesday] morning," Dr Shanti Bhushan told the Hindustan Times newspaper.
Mr Hazare's campaign to strengthen an anti-corruption bill has received widespread support, with tens of thousands of people attending protests across the country.
The Indian government has been rocked by recent corruption scandals including an alleged telecoms bribery scam that may have cost the country $39bn (£23bn), suspected financial malpractice linked to the Delhi 2010 Commonwealth Games and accusation that homes for war widows were diverted to civil servants.
Critics of the government say the scandals point to a pervasive culture of corruption in Prime Minister Manmohan Singh's administration.
A recent survey said corruption in Asia's third largest economy had cost billions of dollars and threatened to derail growth.