New James Bond movie may be shot in India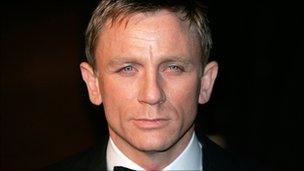 The next James Bond movie is likely to be partly shot in India, according to a pre-production company in Delhi.
Government permission has been granted to shoot in Mumbai (Bombay), Delhi and Goa, Rahul Soni of India Take One Productions told the BBC.
This would be the second Bond film to be shot in India - Octopussy, released in June 1983, was the first.
The 23rd Bond film, which has yet to be named, will be directed by Sam Mendes and released on 9 November 2012.
Daniel Craig - star of 2006's Casino Royale and 2008's Quantum of Solace - is returning as the titular spy.
There have also been reports that some of the shoot will take place in South Africa, and that filming would begin by the end of the year.
Production company EON could not confirm details of the shooting schedule or locations, telling the BBC that the film was "still in pre-production".
India's media has reported that the film is expected to be shot in a crowded old market and a popular flea market in Delhi.
But Pravesh Sahni, one of the film's line producers, told the Delhi Times newspaper that Sam Mendes preferred to shoot in Mumbai over the capital, Delhi.
"They wanted to capture Indian streets to show crowded lanes," he was quoted as saying by the paper.
The paper also said that the producers had met Railway Minister Dinesh Trivedi for permission to shoot a sequence on a train.
"I want Daniel Craig to be the brand ambassador for Indian Railways," Mr Trivedi is quoted as saying.
The 1983 Bond film Octopussy - the 13th in the series - was shot extensively at a palace in Udaipur in India, and starred Indian tennis star Vijay Amrithraj and actor Kabir Bedi.
A number of foreign films have been shot in India in recent years - the 2008 Oscar winning hit Slumdog Millionaire being the most prominent.
Others are Ang Lee's Life of Pi, and the Julia Roberts and Javier Bardem-starrer Eat, Pray, Love.
India Take One also assisted with pre-production on the forthcoming Mission Impossible film, starring Tom Cruise.
Michael Winterbottom's new film Trishna, starring Slumdog Millionaire actress Freida Pinto, was also shot in India earlier this year.
Based on Thomas Hardy's novel Tess of the d'Urbervilles, Trishna is set in contemporary India and tells the tragic love story between the son of a wealthy businessman and the daughter of a rickshaw driver.
Related Internet Links
The BBC is not responsible for the content of external sites.