Kashmir border deaths spark India and Pakistan row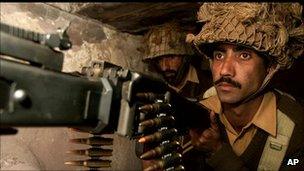 Indian forces have killed three Pakistani soldiers in firing across the Line of Control in the disputed region of Kashmir, the Pakistani army says.
It has accused Indian forces of opening "unprovoked" fire across the LoC - which divides Kashmir between India and Pakistan - in the Neelum valley.
India denied the allegations, saying Pakistani forces opened fire first.
Kashmir has a history of such clashes, though they have become less frequent in recent months.
Correspondents say the latest incident underlines the fragility of ties between India and Pakistan, which have fought two of their three wars since 1947 over Kashmir.
There were regular clashes across the LoC before the nuclear-armed neighbours agreed to a ceasefire in 2003. They now exchange only sporadic fire and there have been just a handful of clashes over the past three years.
Correspondents say that the latest incident is unlikely to have any impact on renewed efforts by the two countries to improve their relations.
"[Our] soldiers were moving from one post to another when they came under fire. Three soldiers were killed," Pakistani military spokesman Maj-Gen Athar Abbas said.
He said that Pakistani forces returned fire and the incident was raised with local Indian commanders.
But India gave a different version of events.
A military spokesman in Srinagar told the BBC that tension along the LoC first began on Tuesday night when militants tried to cross from the Neelum valley into the Indian sector.
The spokesman said that an Indian soldier had been killed in the clash.
On Wednesday night, an Indian border post came under attack from Pakistani troops, the spokesman said, and Indian soldiers retaliated.
The exchange of fire continued throughout Thursday after a brief lull, the spokesman said, accusing Pakistan of two ceasefire violations over the past 15 hours.
In February, the two countries resumed a formal peace process suspended after the 2008 attack on Mumbai (Bombay), in which gunmen killed 165 people. Delhi blamed the attack on Pakistan-based militants.
Foreign ministers from India and Pakistan met in Delhi in July and hailed what they said was a new era in ties, agreeing to fight militancy and boost trade and travel.
Related Internet Links
The BBC is not responsible for the content of external sites.