Nepal's prize-winning poet with cerebral palsy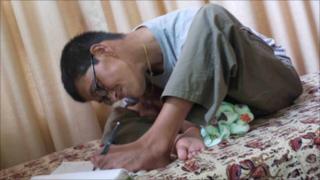 A young woman with cerebral palsy, whose only way of communicating is by writing with her foot, has won Nepal's most prestigious literary prize.
Jhamak Kumari Ghimire, 30, won the Madan Puraskar prize for her book of autobiographical essays, "Is life a thorn or a flower?"
In this she describes her struggle for self-expression after being born into an ordinary village family in the hills of eastern Nepal with disabilities that left her unable to speak or use her hands.
She was not sent to school and taught herself to write by listening to her sister studying. In her prize-winning book she describes the first time she wrote the letter 'ka' (क) - the first letter of the devanagari alphabet in which Nepali is written.
"I could not share that moment's joy with anyone, but my first letter was written in the dust on the ground and in my heart I could pronounce it. I was so happy that I rewrote the letter 'ka' many times."
Ms Ghimire recalls how writing on the ground made her foot bleed, yet her efforts went unnoticed at first.
"Just so that people would see what I had written I wrote a big 'ka' and left it there, but far from looking at my letter people stepped on it and it was erased. My first letter got erased without anyone seeing it."
Her journey to literary recognition was a slow one. She has described being beaten by her parents, who believed that writing on the ground would cause bad luck.
'Elegant expression'
The difficulties she faced are shared by many disabled people growing up in Nepal.
The New York-based advocacy group Human Rights Watch recently released a report describing how disabled children are frequently denied access to education in Nepal and suffer abuse and neglect in their communities.
Ms Ghimire's father, Krishna Prasad Ghimire, has described how a neighbour suggested that he kill his disabled daughter when she was seven by throwing her in a river.
"I was very sad that day," he said. "Today I am very happy. My daughter has made our whole family proud."
Besides her prize-winning essays Ms Ghimire has published four volumes of poetry, two books of short stories and many newspaper columns.
Her latest book, "Is life a thorn or a flower?", is in its third Nepalese language edition. In an interview, Ms Ghimire promised readers of English that the book will soon be available in translation.
"I am very happy to get the award," she wrote, replying to questions with a pen between her toes. "But at the same time I feel a sense of responsibility. I will start writing again soon," she added.
The prominent Nepalese novelist and translator Manjushree Thapa has praised Ms Ghimire's work.
"Jhamak Kumari Ghimire's expression seems to have gained elegance not despite, but because of, the physical challenges she has overcome," she said.
Ms Thapa referred to one of Ms Ghimire's best known poems, "A street child's question to his father", in which the author uses the metaphor of a street child and his father to address the Nepalese nation as the "father" of all its destitute citizens.
Ms Thapa said, "She speaks for an entire generation when she writes: 'Father! Why are you siring / renegade children like me?'"