Afghans launch self-immolation campaign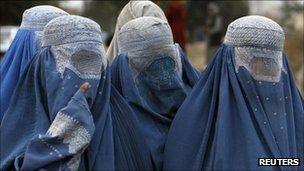 The Afghan government has launched a national media campaign to address the growing problem of self-immolation.
Most people who set fire to themselves, on purpose or by accident, are women.
Many try to commit suicide because they are victims of domestic violence and other forms of abuse.
Until recently, most cases were clustered in the western Herat province, near the border with Iran, where it has been described as a more common means of committing suicide.
Typical cases involve young women who are badly burned by household fuel or cooking oil.
Many suffer terrible scarring and in some cases the injuries are fatal.
Families are often ashamed if a woman in their household tries to kill herself, especially if it is because of domestic abuse.
So it is often hard to know which cases are genuine accidents and which are suicides.
But it does seem clear that the number of cases has been increasing - and this has now become not a regional but a national issue.
"During the last year, 22,000 cases of burns were recorded in the hospitals and received treatment," said Dr Suray Dalil, Afghanistan's acting health minister.
"Among them, around 2,000 cases were admitted to the hospital as in-patients."
Naming several top hospitals in Kabul and Herat, she said 234 people had died of burns there last year.
There has been little sign of a reduction in cases this year.
"In the first five months of the current year, 850 patients have been treated in hospital," she said.
Dr Arif Jalali, head of the burns centre in Herat, has already seen more than 50 self-immolation cases so far this year, of which three patients were men and all the others were women.
The Afghan government's new campaign addresses a range of issues - including safety in the kitchen - which may help to prevent genuine accidents.
It also emphasises the horrific injuries caused by extensive burn injuries, and looks too at issues of domestic violence and abuse that seem to prompt many attempted suicides through self-immolation.