Amitabh Bachchan waives fee for Hollywood debut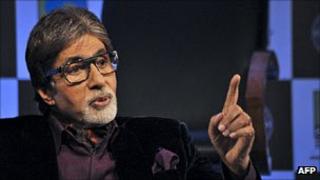 Bollywood legend Amitabh Bachchan has said he will act for free in his Hollywood debut in a new film adaptation of The Great Gatsby, starring Leonardo DiCaprio.
Bachchan said he had waived his fee as he was making a "mere one scene appearance".
The actor will play Meyer Wolfsheim, a Jewish man described as a gambler in F Scott Fitzgerald's classic novel.
The $126m film directed by Baz Luhrmann has begun shooting in Australia.
The Great Gatsby is the story of 1920s high society in the US, the golden age of excess before the Depression.
Writing in his blog, Bachchan, 68, said he had "refused any remuneration" because his small role in the film was a "friendly gesture" to Luhrmann.
"Baz Luhrmann during his private visit to India last year, had dropped by my office to meet me and presented me with some paintings of a prominent painter that was accompanying him," Bachchan wrote.
"He called last month and wondered if I would do this small role in his film and I agreed. It is a gesture."
'Thrilled'
Bachchan said he had gone to Sydney and read the script with the cast and done costume rehearsals.
"It has been a wonderful experience to be a part of their system and to observe with what detail and diligence they work," he wrote.
Earlier, Luhrmann said he was "personally thrilled that one of the world's greatest screen legends, Amitabh Bachchan, is joining the cast".
Luhrmann has spoken about his love for Bollywood movies in the past, and used a popular Bollywood song in his 2001 musical Moulin Rouge.
Bachchan has acted in more than 180 Indian films over 40 years. He remains India's most popular actor.
He recently returned as the celebrity host of Kaun Banega Crorepati, the Indian version of Who Wants to Be A Millionaire and one of the most watched shows on Indian television.
He was voted the greatest star of the millennium in a 1999 BBC poll.
Bachchan acts in several films every year and was last seen in Teen Patti (Three Cards) last year, where he starred alongside British veteran Ben Kingsley.