Afghanistan militias and police 'committing abuses'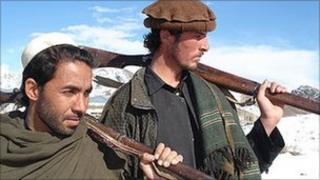 Militias and some units of the new local police in Afghanistan are committing serious human rights abuses, a Human Rights Watch report has said.
It says that they are responsible for crimes including killings, rape, arbitrary detention, abductions and forcible land grabs.
The report says the Afghan government has failed to hold the militias properly to account.
Nato said it was working with the government to examine the findings.
"The Afghan Local Police (ALP) programme is a critical component to bringing governance and security to the Afghan people at the local level," Nato spokesman Lt Col Jimmie Cummings told the AFP news agency.
"Where relevant, we will endeavour to improve this programme and work diligently to correct these observations."
Abuses fostered
The Human Rights Watch (HRW) report says that the Afghan government and the US should sever ties with irregular armed groups and "take immediate steps to create properly trained and vetted security forces that are held accountable for their actions".
The 102-page report, Just Don't Call It a Militia accuses militias and Afghan local police of carrying out abuses in the northern province of Kunduz and in Baghlan, Herat and Uruzgan provinces.
It says that because the government has failed to hold these forces to account, future abuses will be likely and generate support for the Taliban and other opposition forces.
"The government has responded to the insurgency by reactivating militias that threaten the lives of ordinary Afghans," Human Rights Watch Asia director Brad Adams said.
"Kabul and Washington need to make a clean break from supporting abusive and destabilising militias to have any hope of a viable, long-term security strategy."
The report says that the US military - as part of its Afghan exit strategy - is training and mentoring the one-year-old, village-level ALP force.
In March, Gen David Petraeus - in charge of international forces in Afghanistan at the time - told the US Senate that the ALP was "arguably the most critical element in our effort to help Afghanistan develop the capability to secure itself".
But HRW says that cases it has investigated raise serious concerns about government and international efforts to arm, fund, vet and hold accountable irregular armed groups.
"In Kunduz province, militias have spread quickly in recent years," the report says.
"Their increase is a deliberate policy of the National Directorate of Security (Afghanistan's intelligence agency) which has reactivated militia networks primarily through the Shura-e-Nazar ("Supervisory Council" of the north) and Jamiat-i-Islami networks, and provided money and weapons without sufficient oversight."
Just Don't Call It a Militia is based on more than 120 interviews with victims of abuses and family members, village elders, witnesses and non-governmental organisation workers, HRW says.
The rights group says that it has also spoken to security officials, human rights experts, government officials, foreign military officials and diplomats and journalists.
It said that in most cases of serious abuse documented in Kunduz, no action had been taken against those responsible.
"Patronage links to senior officials in the local security forces and the central government allow supposedly pro-government militias to terrorise local communities and operate with impunity," Mr Adams said.