Salman Taseer murder: Mumtaz Qadri sentenced to death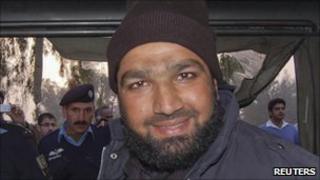 A Pakistani court has found guilty and sentenced to death the police bodyguard who killed Punjab Governor Salman Taseer in January.
Mumtaz Qadri had confessed to murder on the grounds that he objected to Mr Taseer's calls to amend the country's controversial blasphemy law.
Critics of the law say it can be used to persecute minority faiths and is sometimes exploited for grudges.
The assassination divided Pakistan, with many hailing Qadri as a hero.
Qadri was part of Mr Taseer's protection team but opened fire on the governor as he was about to get into his car in the capital, Islamabad, on 4 January.
'Not unlawful'
The trial was held at the high-security Adiyala prison in Rawalpindi and was closed to the media.
"The court announced the death sentence for him," defence lawyer Shuja-ur-Rehman told AFP news agency.
"My client's morale was very high", another defence lawyer Tariq Muhammad Dhamial told the BBC.
"He was very happy with the decision and he accepts it - as it means he has sacrificed his life for the prophet Muhammad.
"My client is at peace - he started reciting verses from the Koran after the verdict was read out."
Qadri was also ordered to pay a fine of 200,000 rupees ($2,300).
His family said they were very happy that he had carried out this act.
Dozens of people gathered outside the prison after the verdict chanting pro-Qadri slogans.
"By punishing one Mumtaz Qadri, you will produce a thousand Mumtaz Qadris!" Reuters news agency quoted one man as shouting through a megaphone.
Qadri's lawyers told the BBC when he was charged that although he admitted killing the governor, he argued that it was not unlawful because "he killed an apostate who insulted the prophet".
He has the right to appeal.
Correspondents say the death penalty has rarely been carried out in Pakistan in recent years.
The blasphemy laws have been especially in the spotlight since November 2010, when a Christian mother of five, Asia Bibi, was sentenced to death for insulting the Prophet Muhammad.
Mr Taseer championed Ms Bibi's cause, saying the law was being misused.
He had also backed a private member's bill in the country's parliament by a female MP, Sherry Rehman, to amend the law to make miscarriages of justice less likely and remove its death penalty.
Two months after Mr Taseer's death, Minorities Minister Shahbaz Bhatti, a Christian, was also murdered after speaking out about the need for debate about the laws.
Correspondents say the killings have for the moment stifled this debate.
In August, Mr Taseer's son Shahbaz was kidnapped in the Punjabi capital Lahore.
His fate is unknown and militants are suspected of carrying out the abduction.
Pakistan's government has said it has no intention of amending the blasphemy law.