Karzai accuses Pakistan of 'double game' over militants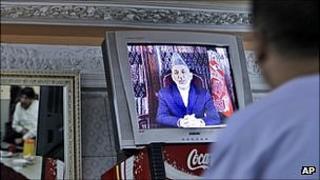 Afghan President Hamid Karzai, in a thinly veiled attack on Pakistan, has said a "double game" is being played in the fight against militants.
Mr Karzai said Pakistan had not co-operated on security issues "which is disappointing for us", but insisted talks with Islamabad should continue.
He said he would convene a loya jirga (Afghan assembly) following the killing of peace envoy Burhanuddin Rabbani.
Afghan investigators say Rabbani's killer was a Pakistani.
They have laid the blame on the Taliban-affiliated Haqqani network and also accused Pakistan's intelligence agency, the ISI, of involvement - a charge Islamabad denies.
Rabbani had been tasked with negotiating with the Taliban, but was killed by a suicide bomber claiming to be a peace envoy from the insurgents.
After the killing on 20 September, Mr Karzai said Kabul would no longer hold peace talks with the Taliban but would instead focus on dialogue with Pakistan.
'Sacred hope'
In his televised address on Monday, he described Afghanistan and Pakistan as "inseparable brothers" but added: "Despite all destructions, calamities and problems, faced by both our country and Pakistan, a double-standard game and [the use of] terrorism as a tool continued.
"The Pakistan Islamic government has not co-operated with us to ensure peace and security in Afghanistan, which is disappointing for us."
He said peace was "the sacred hope" of the Afghan people but "it should be defined whom should we make peace with".
"In reality we are confronted with governments not the forces which are dependent on them. Therefore we should talk to the main side, which has got the authority."
The BBC's Paul Wood in Kabul says that was a barely veiled reference to Pakistan, which is blamed by Mr Karzai for most of the troubles in his country.
The president added: "In a traditional loya jirga, which will be held soon, the representatives of Afghanistan will be asked [about the situation] and we will do according to their wishes."
Not for the first time, the Afghan leader castigated Nato for fighting "the wrong war in the wrong country", saying: "Terrorism is not here."
Earlier, a key leader of the Afghan militant group, the Haqqani network, told the BBC it was not responsible for killing Rabbani.
Siraj Haqqani also told BBC Pashto that the group was not linked to the ISI.
Pakistan has angrily rejected allegations of involvement in the Rabbani killing.
Its foreign ministry said in a statement: "Instead of making such irresponsible statements, those in positions of authority in Kabul should seriously deliberate as to why all those Afghans who are favourably disposed towards peace and towards Pakistan are systematically being removed from the scene and killed."