Lawyer Prashant Bhushan beaten 'for Kashmir opinion'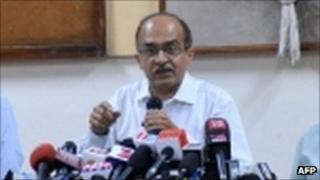 A senior Indian lawyer has been beaten up in his chambers during a live TV interview, in an attack he says was provoked by his stance on Kashmir.
Prashant Bhushan - an aide of anti-corruption campaigner Anna Hazare - was set upon by two attackers who barged into his office during the interview.
He was slapped, dragged and punched repeatedly while pinned to the floor.
Mr Bhushan has spoken out in support of a referendum in Muslim-majority Indian-administered Kashmir.
"They [the attackers] were saying that I have made some comments on Kashmir to which they took objection," Mr Bhushan said.
Delhi police have arrested one person in connection with the attack. Another suspect they say is still on the run.
India and Pakistan have a long-running dispute over borders in the region, and have fought two wars over Kashmir since the 1940s.
A 20-year insurgency against Delhi's rule in Indian-administered Kashmir has claimed thousands of lives.
Mr Bhushan has also commented on proposals to repeal tough laws within the Armed Forces Special Powers Act.
The law gives security forces sweeping powers of detention and the power to shoot suspected militants.
It has been blamed for triggering recent public unrest in Indian-administered Kashmir.
The act has been in force since 1990 across Indian-administered Kashmir.