Indian police recover explosives from car in Haryana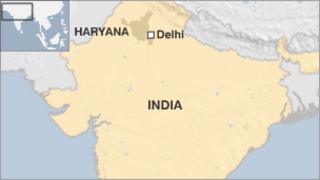 Police in India say they have recovered a large quantity of explosives from a car parked outside a railway station in the northern state of Haryana.
The car was carrying more than 5kg (11lb) of explosives and was found outside Ambala railway station.
Detonators, timer devices and batteries were also recovered from the car, the authorities say.
Police are investigating whether the explosives were meant for a terror attack.
"Various investigating and security agencies are here. We are probing every angle," Haryana's director general of police Rajiv Dalal told the Press Trust of India news agency.
Police also said that a box of sweets was found in the car, which showed that it had been purchased from the Jammu region in Indian-administered Kashmir. Two newspapers from the region were also found in the car.