India and Burma expand trade ties and sign gas deals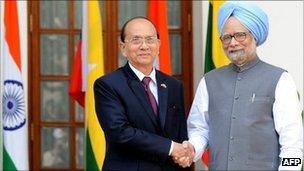 India and Burma have agreed a series of measures to boost trade and co-operation during Burmese President Thein Sein's state visit to Delhi.
India has promised Burma $500m (£316m) credit for infrastructure projects and they will expand co-operation in oil and gas exploration and border trade.
The visit came as Burma released about 200 political prisoners, the latest in a series of steps towards reform.
But India has been sharply rebuked in the past for hosting Burmese leaders.
Human rights groups and activists condemned last year's five-day visit to Delhi by former military ruler General Than Shwe, aimed at deepening trade links.
Correspondents say that with a rapidly growing economy India is desperate to access any major source of energy and will also be keen to offset China's influence in the region.
Burma has huge natural gas reserves in its western province of Arakan and the adjoining seaboard, estimated at more than 30 trillion cubic feet or more.
Indian Prime Minister Manmohan Singh and his Burmese counterpart issued a joint statement which emphasised the need for energy security.
The deal between India and Burma agreed on Friday also includes speeding up the construction of natural gas pipelines. The infrastructure projects for which India has extended credit include roads, inland waterways and ports.
In a further sign that Burma's new leadership may be considering wider public opinion, the president recently suspended construction of the controversial Chinese-backed Myitsone hydroelectric dam.
But Indian officials played down any economic rivalry with its Chinese neighbour.
"We have an important relationship with Myanmar [Burma]. And we have an important relationship with China. There is no competition," external affairs ministry spokesman Vishnu Prakash said.
There are already substantial trade links between Burma and India. Indian energy companies are already investing in Burma's energy sector. The $500m of credit comes on top of $300m (£190m) of credit extended last year.
Related Internet Links
The BBC is not responsible for the content of external sites.