India minister Mahipal Maderna sacked over missing nurse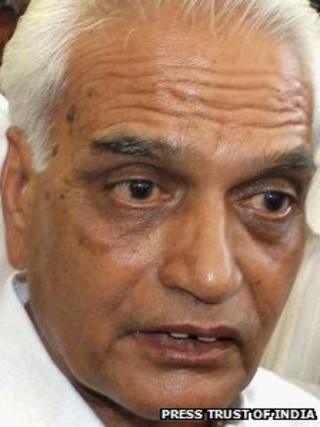 A minister in the Indian state of Rajasthan has been sacked over his alleged involvement in the mysterious disappearance of a government nurse.
Mahipal Maderna was dropped from the state cabinet on Sunday night.
Nurse Bhanwari Devi went missing on 1 September. She is presumed dead but her body has never been found.
Mr Maderna is among several people charged by police in connection with her alleged rape and murder. He says he is innocent.
He was named in connection with the case after footage emerged which, reports say, showed him in close contact with Ms Bhanwari.
But he was only named as one of the accused on the police charge sheet after a court order. He has also been charged with criminal conspiracy.
The case was handed over to federal police, the Central Bureau of Investigation (CBI), last week.
Earlier, Rajasthan's high court had criticised state police for "going slow on the case" and accused the state government of acting "hand in glove" to save the minister.