Bangladesh rally to support transgenders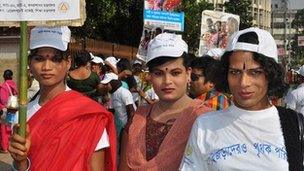 A rally calling for greater recognition for transgender people has been held in the Bangladeshi capital, Dhaka.
Hundreds of transgender people, social activists and students took part in the rally organised by the government - a first in the Muslim-majority nation.
Transgenders, locally known as "hijras", often face discrimination and persecution.
Activists say they are subjected to human rights abuses because of their sexual orientation and gender identity.
Traditionally referred to as "the third gender", transgender people are born male but grow up feeling like and dressing as women.
There are no official figures on how many transgender people there are in Bangladesh. Estimates say the number could be between 30,000 and 150,000.
"We want others to know that we are also normal human beings. We should be allowed to lead a normal life like others. Our society and the government should recognise us," said Pinky Shikder, a transgender.
She said no company or individual wishes to employ people like her and they do not get admitted to schools or colleges. They have limited access to legal and health services.
"When my parents came to know about my sexual orientation they beat me every now and then and forced me to give up my feminine qualities.
"They said I was bringing shame to the family. Finally, I decided to leave my house and live with other transgender people," Ms Shikder said.
Most of the transgender people make a living either through begging or by singing during weddings and childbirth to bless the newly-married couples and new-born babies.
Due to their social exclusion, many end up as sex workers and activists say they are vulnerable to HIV infections as many of their customers insist on unprotected sex.
"The idea behind the rally is to sensitise the masses about the transgender people. There is a misconception and negative attitude of the people towards them," senior government official Muhammad Ebadur Rahman said.
The Bangladeshi government has also initiated a pilot project to develop their skills to help them find work.
Currently, 30 hijras are undergoing a six-week training course to work in beauty parlours and learning sewing to get employment in garment factories. Some are also taking computer courses.
Hijras have been traditionally shunned across conservative South Asian societies, but attempts have been made in recent years to give them a better deal.
In Pakistan - also a Muslim majority nation - hijras have been given new legal rights.
They are recognised as a separate gender and are even employed as tax collectors.
And in 2009, India's Election Commission gave hijras an independent identity by letting them choose their gender as "other" on ballot forms.
Hijras comprise the hermaphrodite, transvestite and trans-sexual communities and number about 500,000 in India.