Indian military helicopter 'breaches Pakistan airspace'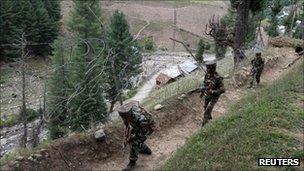 Pakistan's military have forced down Indian military helicopter after it crossed into Pakistani territory, a spokesman in Islamabad says.
The helicopter landed in the Skardu region, near Pakistan-administered Kashmir, and the four Indian army officers on board were detained.
The helicopter was later released, an Indian defence ministry spokesman said.
India and Pakistan have fought three wars since 1947, two of them over the disputed territory of Kashmir.
Pakistani officials say they are now investigating how the helicopter came to cross the Line of Control (LoC), the de facto border between the two countries.
"The Indian helicopter violated our air space and flew way inside the Pakistani territory. It was forced to land at Skardu," chief army spokesman Maj Gen Athar Abbas told the BBC.
There were regular clashes across the LoC before the nuclear-armed neighbours agreed to a ceasefire in 2003. They now exchange only sporadic fire and there have been just a handful of clashes in recent years.
Skardu, where the helicopter came down, is across the LoC from Kargil, in Indian-administered Kashmir. India and Pakistan fought a brief but bitter conflict there in 1999 after Pakistani troops infiltrated Indian-controlled territory.
Last February, the two countries resumed a formal peace process suspended after the 2008 attack on Mumbai (Bombay), in which gunmen killed 165 people. Delhi blamed the attack on Pakistan-based militants.
The two countries' foreign ministers met in Delhi in July and hailed what they said was a new era in ties, agreeing to fight militancy and boost trade and travel.
Related Internet Links
The BBC is not responsible for the content of external sites.