Pakistan mourns former first lady Nusrat Bhutto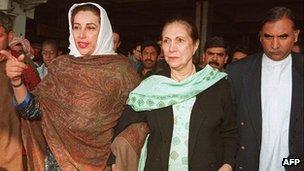 Pakistan has buried its former first lady Begum Nusrat Bhutto who died after a long illness in Dubai at 82.
The government declared a public holiday and flags flew at half-mast as offices, shops and schools closed.
After her body was flown home, she was interred next to her husband at the Bhuttos' ancestral village.
She was the widow of the former Prime Minister and President, Zulfikar Ali Bhutto, and mother of assassinated Prime Minister Benazir Bhutto.
Benazir Bhutto was assassinated in 2007, shortly after returning to the country to participate in elections following years of exile. Her husband, Asif Ali Zardari, is now Pakistan's president.
Pakistani cabinet ministers joined President Asif Ali Zardari and his son Bilawal in lowering her body into the grave, AFP news agency reports.
Nusrat Bhutto was herself elected twice to the Pakistani parliament. She led the Pakistan People's Party (PPP) until her daughter took over in the mid-1980s, later serving twice as prime minister.
Mourning began on Monday with the national flag flying at half mast. A 10-day period of national mourning was declared.
Begum Nusrat Bhutto's husband founded the PPP, which controls the government in Pakistan today. He was prime minister and president in the 1970s.
Nusrat Bhutto led the PPP for several years after her husband was hanged in 1979, during the military rule of Gen Zia-ul-Haq.