Adil Omar: Rapper challenging Pakistan to think differently
By Junaid Ahmed
BBC News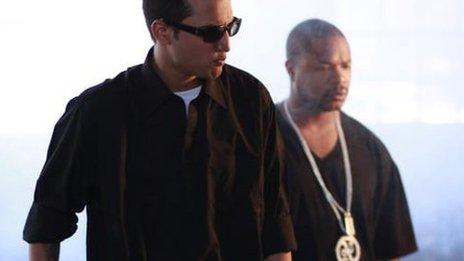 Strong opinions can get you in trouble in Pakistan, especially if they are about politics or religion.
But Islamabad-based rap artist Adil Omar believes the country needs more people like him to challenge the way people think.
"It's not pop music," Adil Omar told the BBC World Service.
"What I do, it's not easy listening," he says, adding that usually people either love or hate his music.
One of the titles - Go Outside - is about an explosion in a city at three o'clock in the morning.
In it, he raps about politicians becoming the target of militant groups and an "apocalyptic" civil war that follows.
In the context of Pakistan, Omar's music is unusually hard-hitting and provocative.
"I'd rather get a loyal cult following at the expense of a bunch of people hating me, than a few flimsy fans," he says, adding that many people in Pakistan are still getting over the shock of having young people take to rap as a musical genre.
His most recent track, Paki Rambo, received positive reviews but it has also been criticised for its content and the use of the word Paki, which is considered offensive by many people of South Asian origin.
"It's basically from that line in the film Four Lions," he explains, referring to the 2010 satirical British film about a group of men in England who aspire to become radical Jihadis.
"I saw that scene where he's talking about being a Paki Rambo and I sampled it for my latest single.
"Since then it has become a kind of an alter ego nickname for me," he laughs.
Pakistan has a rich tradition of classical and modern music and there are numerous bands and artists who play Western style rock and pop.
But for Omar that does not push the boundaries far enough.
"For a long time, there hasn't been anything with that punk rock rebel energy which people need," he says.
"People need something which is different, which is new, which challenges them and which also challenges authority and society.
"They need to have a lot more variety than what's out there."
There is too much respect for authority in Pakistan, he says, and people are always told what to do.
They are "made to roll over for everyone" and the system not only breaks "their spines" but also turns them "into sheep".
Even though his language is unapologetic and touches on some serious issues, Omar believes the main purpose of his music is to entertain the listeners.
He says although it is inevitable that his lyrics will reflect the state of his society, and the turmoil it is going through, the words should not be seen as a campaign against a certain group or a viewpoint.
"If I did preach something, it's individuality," he says.
But speaking one's mind in Pakistan has its limits.
Earlier this year the Governor of Punjab province, Salman Taseer, was killed by one of his own bodyguards for expressing his opposition to a controversial blasphemy law.
Without mentioning Salman Taseer's case, Omar is aware of the lines that are too dangerous to cross.
"It is hard to be outspoken here," he admits. "I don't really have what it takes, I'm not that brave.
"I'll throw in a few subtle political references for people, so that they know which side of the fence I'm on, but I wouldn't want to preach to anyone," he adds.
His desire to put his personal feelings into music has touched on social taboos in a way many aspiring musicians would carefully avoid in Pakistan.
In the song Daddy's Eyes he makes a frank confession about his father's alcoholism and the amnesia suffered by his mother.
Omar began writing at the age of nine and after his father's death a year later, he immersed himself in music.
"Academically I kept failing and getting kicked out of school. I eventually just dropped out," he says.
His family was initially unimpressed.
But that changed when he was 16 and got the opportunity to work with B-Real of the California-based hip-hop group Cypress Hill.
"Since then they've been showing a lot more support and faith in my career choice," he says.
He has collaborated with several US-based artists since and has been working on his debut album - The Mushroom Cloud Effect - due out early next year.
Related Internet Links
The BBC is not responsible for the content of external sites.