India police probe family row after girl 'sacrificed'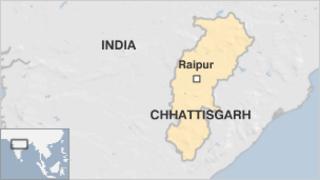 Police in India's Chhattisgarh state are investigating whether a family row was behind the choice of a seven-year-old girl for tribal sacrifice.
Lalita Tanti was kidnapped on 21 October from her school and her mutilated body was found in a forest two days later, police said.
Two of her neighbours have been arrested. The sacrifice was carried out to ensure a bumper crop, police said.
They said they believed more villagers were involved in the crime.
'Whole community'
The incident took place in Bijapur district.
Police said Lalita's body was badly mutilated and it appeared that some parts were offered to appease deities.
"The body was recovered from near a temple so we believe that she was sacrificed," a senior police official in the district told the BBC.
"Our investigations have revealed that there was a dispute between the two accused people and the victim's father Budhram."
The official said police believed that other villagers were involved in the crime as "such kinds of ritual sacrifice involve a whole community or a village".
Many cases of human sacrifice are thought to be carried out in the tribal belt of eastern and central India, in Jharkhand, Orissa, Chhattisgarh and parts of Andhra Pradesh bordering Chhattisgarh.