Indian Dalit icon Mayawati's statues ordered covered up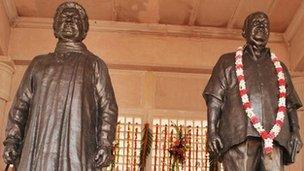 Officials in India's Uttar Pradesh state have ordered all statues of Chief Minister Mayawati and her party symbol - an elephant - to be covered up.
The Election Commission says the statues might influence voters and must stay covered until the end of assembly polls in March.
Ms Mayawati is famous for building statues of herself and other icons of her low-caste Dalit community.
There are nearly a dozen statues of Mayawati in two parks in the state.
The parks in the state capital, Lucknow, and Noida, a suburb of Delhi, have more than 75 stone elephants.
The government has been ordered to cover the statues by Wednesday evening.
Under election rules, portraits and calendars bearing photographs of the chief minister must be removed from government offices ahead of elections.
"I have got the Election Commission orders and it will be fully executed," Lucknow district magistrate Anil Sagar said on Sunday.
Reports said officials have begun draping the statues, but soon ran out of sheets to cover the largest ones.
Chief Election Commissioner SY Quraishi said the covering up should be completed "at the earliest".
Ms Mayawati's Bahujan Samaj Party has termed the order as "one-sided and against natural justice".
Huge numbers of statues commissioned by Ms Mayawati can be seen in the state capital, Lucknow, and other towns and cities of Uttar Pradesh.
Critics accuse her of self-glorification. She accuses them of conspiring against her.
In September, leaked US diplomatic cables said Ms Mayawati had sent an empty private jet to fetch a pair of sandals from Mumbai - a change she strongly denied.
Ms Mayawati rules over Uttar Pradesh, one of India's most deprived states with a high crime rate and poor health indicators.
Her spending on statues and memorials has been described as "shameful" by critics.
Statues of political leaders are generally put up posthumously, but Ms Mayawati says that belief is outdated.
Related Internet Links
The BBC is not responsible for the content of external sites.