Cricketer Gautam Gambhir says team let India down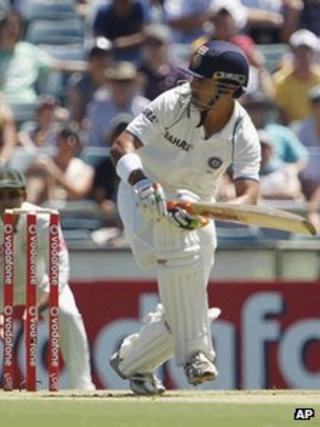 Indian opener Gautam Gambhir has said that his team has let the "entire nation down" in the ongoing Test series against Australia.
The cricketer said the team had failed to live up to expectations.
India trail the four-match Test series 0-3 with the final Test starting in Adelaide on 24 January.
The team's debacle in the third Test in Perth was their seventh consecutive overseas Test defeat stretching back to the tour of England last year.
"We have let the entire nation down and I will be the first one to accept it," Gambhir said in Perth on Tuesday morning.
"There is a backlash which is happening back home and we are ready to accept it. We have given the opportunity to people (to criticise us). We haven't played good cricket and not lived up to the expectations, given the batting we have," he said.
"We have let the common man down who expects us to perform and I accept it. We need to turn it around as quickly as possible," he added.
Indian batsmen have been particularly criticised for their dismal performance on the present tour. Gambhir himself has scored only 144 runs from six innings in the three Tests.
"I am not someone who would be hesitant to take the responsibility. I will be the first one to accept it. If you want to be number one, you have to perform well and start winning overseas, whether England, South Africa or Australia," the cricketer said.
Gambhir also dismissed criticism of veteran batsman VVS Laxman by experts and former cricketers.
"Why criticise one person, all of the top six or seven should be criticised equally," he said.