Rahul Gandhi: The rise of India's political scion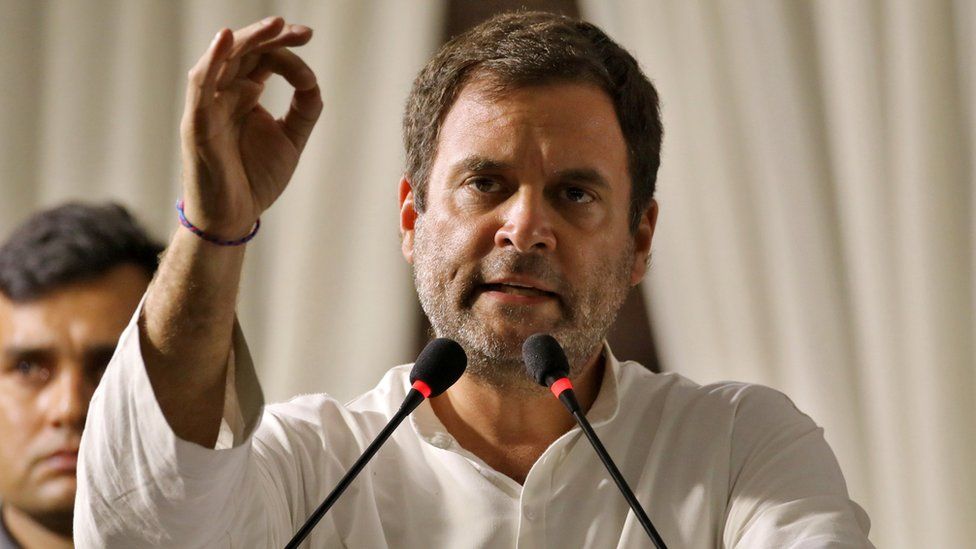 Rahul Gandhi, heir of the powerful Nehru-Gandhi political dynasty that has dominated Indian politics for decades, has again failed to convince Indian voters to return his opposition Congress party to lead the country.
The 48-year-old Congress chief suffered a crushing defeat to Prime Minister Narendra Modi's Bharatiya Janata Party (BJP) party in the 2019 parliamentary election, five years after his party suffered a similar fate.
Mr Gandhi was all but written off after the historic 2014 loss, but mounted a combative campaign against Mr Modi with hopes of energising a struggling Congress party.
His efforts did not pay off, and Mr Gandhi now faces a reckoning. His party has won fewer than 60 seats in the 545-member lower house of parliament, or Lok Sabha.
Mr Gandhi also conceded his seat in Amethi in the northern Uttar Pradesh state, a family constituency which his father and mother once held. But he was re-elected because he contested in a second seat - Wayanad in southern India - where he won by a thumping majority.
The scion of India's political royalty
The son of murdered former prime minister Rajiv Gandhi and his Italian-born widow Sonia, Rahul was born on 19 June 1970, went to the finest Indian schools, going on to study economics in the US and work in London before returning to work in Mumbai in 2002.
Mr Gandhi's decision to enter formal politics before the 2004 general election had taken many by surprise because for long, it was thought that his sister would be more likely to take over the family's mantle of power.
He was always seen as a shy man whose interests lay more in cricket matches and the outdoors than in political life.
But he took the plunge, stood for parliament in 2004 and won the traditional family constituency of Amethi.
In September 2007, he was named as the party's secretary general, with his mother Sonia remaining as president, and in January 2013, he was appointed the Congress vice-president.
Mr Gandhi's elevation to the top Congress post was always a foregone conclusion and though many within the party saw his move into politics as positive, some said the decision highlighted the party's lack of alternatives and its continuing reliance on the Nehru-Gandhi family for leadership and direction.
Appointed president of Congress in December 2017, he led the party from the front into the general election and managed its campaign.
He criss-crossed the length and breadth of India, addressing election rallies, participating in road shows and holding meetings with party workers and supporters.
Many in the party ranks had long clamoured for a bigger role for Mr Gandhi, the scion of India's political royalty.
His great-grandfather, Jawaharlal Nehru, was the first prime minister of independent India, his grandmother and father also served as prime ministers, while his mother, Italian-born Sonia Gandhi, was the Congress chief until poor health forced her to hand over the reins to him.
Even before that, there never was any doubt that he was being groomed for the top job. In 2013, he was elevated to the second most senior position in the party and campaigned extensively in the 2014 general election.
But when the results were declared, the Congress party was decimated. In its worst ever performance, it was reduced to 44 MPs in the 545-member Lok Sabha (the lower house of the parliament). Mr Gandhi accepted responsibility for the battering and his career hit rock bottom.
Thereafter, the party faced electoral setbacks in several state elections and Mr Gandhi was blamed for his lacklustre leadership.
His critics - and there were many of them - described him as the "reluctant prince" who was the de facto number two in the party for a long time, wielding the power, but shying away from responsibility.
He was described as "remote and inaccessible" and his rivals ridiculed him on social media as a bumbling, clueless leader prone to gaffes.
PM Modi, who comes from a humble background, repeatedly criticised him for rising to the top not on merit, but because of belonging to the Nehru-Gandhi dynasty.
Mr Gandhi, however, has recovered some of the lost ground over the past two years in his quest to restore Congress to power.
He argued convincingly about the government's controversial currency ban, a lack of employment opportunities, growing intolerance in the country and the slowdown in the economy. He also demanded answers from the government on alleged corruption in the Rafale fighter jet deal.
And in December, he led the Congress to victory in important state elections in Rajasthan, Chhattisgarh and Madhya Pradesh.
A couple of months later, he launched his charismatic and popular sister Priyanka Gandhi into politics to help revive the party in the key state of Uttar Pradesh.
But his strategy fell flat with a resounding thud. The BJP swept the polls and won in a landslide victory. Mr Modi's party has secured more than 300 seats, surpassing its 2014 performance.
Can he rebrand his party?
Despite his "dark horse" image, he is said by some analysts to have a detailed political knowledge and to be a practised backroom operator.
The three-term MP from Amethi lost his re-election bid to BJP candidate Smriti Irani, who put up a tough fight in 2014 too.
When Mr Gandhi announced his decision to contest in Wayanad, some BJP leaders had said it was because he was unsure of winning Amethi. But Congress leaders contended that it was part of a strategy to widen their base in the south.
Now, because of his comfortable win in Wayanad, he won't be leaving parliament any time soon.
But the party that has ruled India for the most part since independence in 1947 has found little favour with voters in recent years.
The biggest challenge before Mr Gandhi is how to rebrand the 133-year-old party, build the cadre base and start winning elections after two historic defeats.
Related Internet Links
The BBC is not responsible for the content of external sites.