Chinese alarm over formaldehyde-tainted cabbages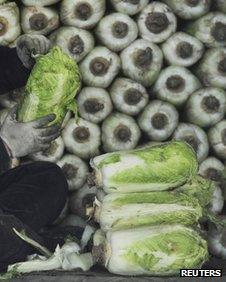 Vegetable sellers in China have been caught spraying cabbages with a formaldehyde solution to keep them fresh in transit, the state news agency Xinhua has reported.
Xinhua said the practice had been common in eastern China for years.
The agency said it was being done because most farmers cannot afford refrigerated trucks for cabbages.
Formaldehyde is a toxic cancer-causing compound often used as a disinfectant and for embalming.
It can irritate the skin and cause breathing and digestive problems.
Cabbage is a staple food in China, often used as a filling in dumplings, but also stir-fried or pickled.
In recent years the country has faced a series of food safety scandals, including the lacing of baby-milk with the industrial chemical melamine.
Xinhua reported on Monday that dozens of wholesale vegetable dealers in Qingzhou city - in Shandong province - were caught selling cabbage sprayed with formaldehyde.
It did not say if the dealers had been arrested and what punishments they might face.
It said the practice has become so widespread over the last three years because vegetables in warmer months rot quickly in transit.
Correspondents say that China's wholesale vegetable dealers are not required to use refrigerated trucks for produce, and few can afford it.
China's health ministry in 2008 published a list of illegal food additives that included formaldehyde.
The chemical has also been reportedly used to soak some dried seafood to make it appear more fresh and plump.
Related Internet Links
The BBC is not responsible for the content of external sites.