US teenager Joncarlo Patton cleared of mother's murder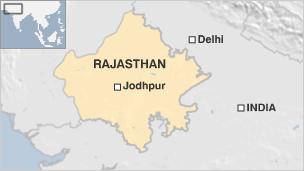 An Indian appeals court has overturned the conviction of a US teenager who had been accused of slashing his mother's throat at an Indian resort in 2010.
Joncarlo Patton, who was 15 or 16 when arrested, denied murdering his mother, Cynthia Iannarelli, in the northern Indian state of Rajasthan.
He was arrested at an airport a day after she was found dead near the city of Jodhpur.
He was sentenced last year to three years in a juvenile detention facility.
It is not clear on what grounds the conviction was overturned, Associated Press reports.
The teenager had been accused of attacking his 51-year-old mother with a knife and then dumping her body on a sand dune near the resort of Osian, where they were on holiday.
After his arrest, the boy said he was traumatised by his parents' divorce and had wanted them to reconcile, police said.
His father, Richard Patton, said the family was overjoyed at his acquittal.
"While this does not in any way lessen the tragic death of Dr Iannarelli, both the Patton and Iannarelli families are relieved and joyful with Joncarlo's acquittal, an outcome we have believed in and expected from the very beginning," he said in a written statement.
Mr Patton, a professor of business administration at the University of Pittsburgh, Pennsylvania, said the staff at the juvenile facility had treated his son "with kindness, dignity and respect under very trying conditions".
"As Joncarlo returns to Pittsburgh, his focus will be on getting back to his studies and activities and continued accomplishments that will make his mother and all of us proud," Richard Patton added.
"At some future point, he may choose to discuss his experiences, but for now he will focus on returning to a normal life."