Pakistani city of Mingora hit by blast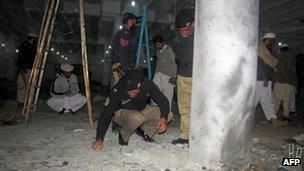 At least 21 people have been killed in an explosion at a religious gathering in north-west Pakistan's Swat Valley, police and hospital officials say.
Police initially said the explosion in the city of Mingora was caused by a gas canister, but a senior official later said it was a bomb.
More than 60 people were reported to have been injured.
Pakistani security forces have controlled Swat since ousting the Taliban from the area in 2009.
Regional police chief Akhtar Hayat told AFP news agency that the blast took place at a centre run by the local Tableeghi Jamaat (Preachers' Party).
Another official, Gul Afzal Afridi, said that as many as 1,500 people were gathered there. He said no explosives had been found at the site.
But Mr Hayat told Reuters news agency that a bomb had exploded, contradicting earlier reports that it was caused by a gas canister.
Some witnesses who spoke to Reuters said they had not seen any gas canisters in the area, and questioned whether a canister could cause so many casualties.
If a bombing is confirmed, it would be the first such attack in Swat Valley for many months.