Obama's Recovery Act 'created more jobs than expected'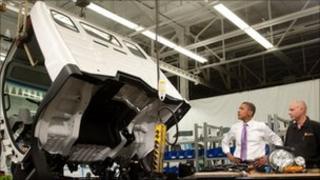 President Barack Obama's Recovery Act has created between 2.5 and 3.6 million jobs, according to the latest quarterly report released by the White House.
This is a substantial increase over previous estimates of jobs created by the economic stimulus package.
The report also suggested the stimulus may have raised US growth by about 3%.
However, the report came as newly released minutes revealed that the Federal Reserve revised down its forecast for US growth this year.
Softening outlook
The Fed officials said the "economic outlook had softened somewhat", the minutes from its 22 June meeting revealed.
They revised their 2010 growth forecast down by 0.2%, to a range of 3% to 3.5%.
They also agreed that they may need to consider further measures to stimulate the economy if the outlook worsened further.
Meanwhile, US retail sales fell for the second straight month, due largely to drops in petrol station and car sales.
Sales were down 0.5% in June, having already fallen 1.1% in May.
Employment impact
Meanwhile, the positive assessment of the Recovery Act is much needed good news for the Obama Administration, which continues to struggle with an unemployment rate at around 10%.
Many independent economists agree that the stimulus created jobs, but there is dispute over the exact number.
Although Recovery Act money has funded public works projects around the country, much of it was funnelled to unemployment and health benefits, and tax breaks to small businesses.
Assessing the employment impact of such spending is difficult.
"There's obviously a lot of uncertainty about any job estimate," said Christina Romer, head of the White House Council of Economic Advisers, when unveiling the report.
"I suspect the true effects of the act will not be fully analysed or fully appreciated for many years."
Republicans, meanwhile, disputed the government's assessment of the numbers.
"No amount of Washington spin or fuzzy math can change the fact that the trillion-dollar 'stimulus' is failing by the Obama administration's own standards," said John Boehner, Republican leader in the House of Representatives.
Mr Obama and Vice-President Joe Biden have been travelling to recession-hit states to tout the impact of the stimulus for many months, but polls show that the public is increasingly sceptical of the administration's economic policies.