Uranium revival sparks New Mexico land battle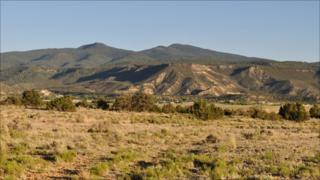 Thousands of feet under a hot patch of sand and brush is buried a deposit of uranium so rich it could revive a hardscrabble New Mexico town pocked with vacant lots and shuttered buildings.
The mining industry and those residents of the area who are eager for an influx of jobs see the plateau around Mount Taylor near the town of Grants in the northwest corner of New Mexico as an irresistible opportunity for economic gain.
"It's what we need, it's what's going to fuel the future," said Star Gonzales, director of the Grants chamber of commerce. "They will be good paying jobs."
But to local Native Americans whose ancestors lived in the area centuries before European settlement, Mount Taylor is a central part of their culture and religion.
They are fighting to ensure that archaeological sites, their cultural heritage and water supply be protected.
Some are opposed outright to new excavation and have watched helplessly as mining projects move ahead. While state and national agencies recognise their cultural claim to the land, the law gives them virtually no power to halt mining.
"As an Indian nation, we're taught to respect mother earth, and [when] you see somebody doing that, it's like somebody putting a knife in you," said Albert Riley, a Laguna Pueblo tribal official and religious leader.
Rusting mine works
Mount Taylor - known as "Tsibina" to the Laguna and "Tsoodzil" to the Navajo - lies in the heart of the Grants mineral belt, the site of one of the richest hauls of uranium of the cold war era.
For decades, Native American, Hispanics and "Anglos" (as whites are called here) enjoyed steady work in uranium mining jobs, and Grants shops, restaurants and bars were filled with mine workers who were well compensated for their dangerous occupation.
But beginning in the 1980s, a decades-long depression in uranium prices, provoked in part by concerns over the safety of nuclear power, closed the mines and left Grants in an economic slump.
Rusting mine works and machinery dot the otherwise breathtaking desert landscape. In some parts of the area, groundwater remains contaminated from old uranium processing.
As China and India are ramping up nuclear power programmes - and amid calls in the US to build new nuclear power plants - uranium companies hope to restart mining here.
"The world is going nuclear whether the US wants to or not," says David Miller, chief executive of Strathmore Minerals, a Canadian firm seeking to mine in New Mexico.
He says that if regulators hinder exploration, "we won't have the high paying jobs supporting a higher quality of life for all the local people".
Buried under the state, one of America's poorest, lies an estimated 341m pounds (155m kg) of uranium reserves, valued at $3.1bn (£2.07bn) at projected market prices. Uranium companies say mining and processing will create more than 8,000 jobs.
Ancient archaeological sites
But the promise of new jobs is not enough for Mr Riley and thousands of Acoma, Hopi, Laguna, Navajo and Zuni Indians who are wary of the effect new mining will have on the environment.
The Navajo nation, for instance, banned uranium mining from land under its control, only to see a court rule last month that uranium extraction could resume on disputed territory near Church Rock, New Mexico, an area devastated by a 1979 nuclear waste spill.
Evidence of the complicated politics of the issue were apparent from the reporting in a local newspaper which carried the decision, alongside advice to residents on how they could queue up for jobs at the site.
Industry officials say advances in mining technology and practices would preclude the ill environmental and health affects of the cold war era.
But documents obtained by the BBC reveal that one of the principle proposed mining projects in the area would threaten ancient archaeological sites and would drill thousands of feet into land that the state of New Mexico has recognised as the Indians' "traditional cultural property".
Last year, the US national trust for historic preservation listed Mount Taylor as one of the 11 most endangered historic sites in the country. Meanwhile, New Mexico has designated the mountain and its surroundings as a "traditional cultural property" and added it to a register of historic cultural lands. A coalition of mining companies and landowners are challenging that designation in court.
Pledge to consult
Strathmore Minerals owns the mining rights to a patch of land about nine miles (14.7km) from the peak of Mount Taylor called Roca Honda, Spanish for "deep rock". Roca Honda is located in part on the designated traditional cultural property. The company is currently in the middle of the long process of obtaining mining permits and has already spent more than $12m on the project.
The Roca Honda area holds 150 archaeological sites denoted by surveyors hired by Strathmore minerals. The artefacts range in age from settlements of the ancient ancestors of the Indians who inhabit the area today through the era of Spanish rule up to the 20th Century.
In regulatory filings, Strathmore predicts the traditional cultural property designation will not have a "significant impact" on the permitting process. In filings and interviews, company executives pledge to consult with local Native American groups during mining activities.
Juan Velasquez, a Strathmore Minerals executive who is handling the permitting process for the Roca Honda mine, said the company is committed to avoiding damaging archaeological sites, in part by hiring an archaeologist to observe mining activities and excavate relics threatened by the work.
"To the extent that we cannot avoid them, we will do what is necessary to ensure that all of the data that might be useful is extracted from those sites," he said.
But a state archaeologist questioned the company's optimism.
"Even if the archaeological sites are avoided by direct impacts from construction, they could be adversely affected by indirect impacts from erosion, drainage, water run-off, etc," Michelle Ensey wrote to state mining regulators in a letter obtained by the BBC.
In interviews, members of local Indian tribes stress Mount Taylor's importance to their cultural heritage and many say mining threatens the mountain and its environs, despite industry assurances to the contrary.
"I am not convinced that the industry has put the time and research and money into mining in ways that don't impact the environment," said June Lorenzo, a Laguna lawyer. "It's irresponsible to dive in, just looking with dollar signs in our eyes, and say it'll bring employment."
Mr Velasquez emphasised the company would address all parties' environmental concerns during the regulatory process and pledged Strathmore would be "respectful" of the tribes' cultural concerns.
He said many opponents of new uranium mining judge the industry unfairly based on environmental practices that have evolved greatly since last century.
"The uranium industry has had its history and will have its future, and there are those who don't want a future for this industry," he said.
"This is an industry that has a future and has a significant potential impact into our economic livelihood in this country, particularly as it relates to economic development in rural communities."