Canadian manfuacturing sales rise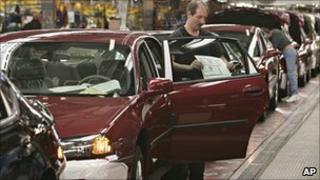 Canadian manufacturing sales saw gains in May but other signs added to the impression of a drawn-out economic recovery.
Factory shipments rose 0.4 percent in April - twice the amount expected, according to Statistics Canada.
Manufacturing sale have risen for eight straight months, but are still well below pre-recession levels.
Meanwhile, the Canadian Real Estate Association said sales of existing homes fell 8.2% in June from May.
Royal Bank of Canada chief economist Paul Ferley told the Reuters news agency: "The reported 0.4 percent rise in the volume of sales is encouraging and provides some reason for optimism that May gross domestic product will rebound from unchanged activity in April."
Close to half of Canada's 21 manufacturing industries reported gains in May, but the majority of the overall increase came from the car industry.
However some experts warned of a slowdown later in the year.
TD Securities economist Grant Bishop said: "[As] The pace of US recovery slows in the second half of 2010, the rebound of Canada's exports and manufacturing shipments will ease."