Shipping at Port of Montreal halts amid labour dispute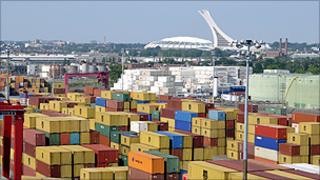 Most shipping at the port of Montreal has stopped amid a dispute over pay and conditions.
Traffic halted when 850 dock workers were locked out after talks to resolve the dispute broke down.
"No boats are coming in, no boats are being unloaded, no boats are going out," a spokesman for the shipping companies said.
Some workers have been without contracts since late 2008. Shippers accuse workers of "pressure tactics".
Gilles Corriveau, a spokesman for the Maritime Employers Association, told Canadian media that the union had slowed the unloading of ships to protest cuts in pay to longshoremen who are on call but not at port, one of the main issues in the dispute.
He told the Montreal Gazette that ships had been rerouted to New York and Norfolk, Virginia.
The longshoremen's union have scheduled a news conference for later on Monday.
The port is a major shipping hub for trade between north America's industrial heartland and European and Mediterranean ports.