Senate panel approves Obama Supreme Court pick Kagan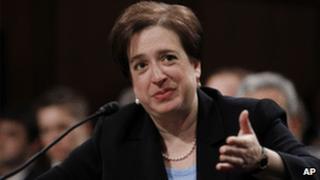 US President Barack Obama's Supreme Court nominee has won the approval of the US Senate judiciary committee.
The nomination now moves to the full US Senate, which is expected to confirm her as the third woman justice on the US's highest court.
The panel voted 13-6, with only one Republican supporting the nomination.
If confirmed by the Senate, Ms Kagan, 50, will take a lifetime seat as one of nine justices, replacing retired Justice John Paul Stevens.
Republicans opposing Ms Kagan argued she puts politics ahead of the law, citing past positions on abortion and gays in the military.
Republican senator Lindsey Graham, the only member of the panel to break party ranks, highlighted Ms Kagan's support for broad "war on terrorism" government powers, saying "she understands we're at war."
Ms Kagan, former dean of Harvard University Law School, is President Obama's solicitor general, the lawyer who argues administration cases before the Supreme Court.
She was the president's second pick to the court after Justice Sonia Sotomayor, who won confirmation last summer.
If Ms Kagan is confirmed, she will have the opportunity to affect American law for an entire generation.
Narrowly divided court
In the coming years, the Supreme Court is expected to rule on cases touching on some of the most divisive and pressing questions of American law and policy, including the president's health care plan, same-sex marriage and abortion rights.
The court is narrowly divided along ideological lines, with some of the most ideologically charged cases decided in 5-4 votes.
Those include decisions vacating gun-ownership restrictions and campaign-finance regulations.
Ms Kagan has never served as a judge, but her professional record suggests that she is unlikely to change the ideological make-up of the court, analysts say.