Canadian soldier guilty of 'disgraceful conduct'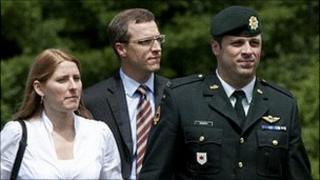 A Canadian army captain, who also served in the British Army, has been acquitted of the murder of an unarmed, wounded Afghan fighter.
But a military court found Capt Robert Semrau guilty of "disgraceful" conduct. He faces up to five years in prison.
The Afghan was already near death after a helicopter attack and prosecutors said they failed to prove Capt Semrau's rifle shots killed him.
In October 2008, Capt Semrau's unit was ambushed while on patrol in Helmand.
According to court records, a US Apache attack helicopter came to their rescue, and in the ensuing fight a suspected Afghan Taliban fighter lay disarmed and severely wounded, with one witness testifying he was "98% dead".
No autopsy
Prosecutors said Capt Semrau fired two shots at the prone fighter in a "mercy killing".
Capt Semrau, 36, was acquitted of second-degree murder because a jury of military officers was not persuaded the Afghan died as a result of the shooting, a prosecutor said.
While Capt Semrau's fellow soldiers gave evidence that he had admitted to shooting the wounded Afghan, prosecutors had no autopsy report to prove his role in the death, nor was the body recovered.
After the conviction, Capt Semrau, who is married with one child, faces up to five years in prison and discharge from the Canadian military.
Capt Semrau served three years in the British army, including in Afghanistan and Macedonia, and earned an "exemplary discharge", according to court records and media reports.