Two men 'steal' Neil Armstrong's customs form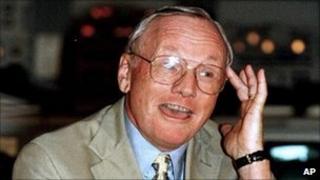 Two men have been charged with stealing a customs form from Neil Armstrong, the first man to walk on the moon.
Prosecutors say the pair then attempted to sell the document, which contained Mr Armstrong's address, birth date, and signature, on an auction website.
A complaint filed in US district court in Boston, Massachusetts said one of the men was working at a Boston airport in March when Armstrong passed through.
The man allegedly helped Mr Armstrong, but did not properly file the form.
Mr Armstrong recently returned from a trip overseas to boost morale and support of US troops serving abroad.
The complaint said the bidding began in May for Mr Armstrong's signature with an offer of $200 (£131) and topped $1,026 before the online company stopped the bidding in response to a bidder's concerns.
If the men, who are from the US state of Massachusetts, are convicted, they could both face up to 10 years in prison and a $250,000 fine.
Tuesday marked the 41st anniversary of Mr Armstrong becoming the first man to walk on the moon.