United Airlines plane hits turbulence injuring 30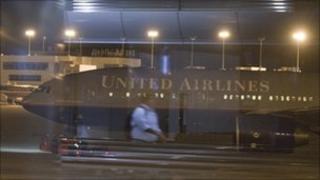 Thirty people were injured when a United Airlines jet hit "heavy turbulence" over Kansas.
The Boeing 777 was flying from Washington to Los Angeles at 34,000ft (10,000m) when it hit trouble.
A female passenger was jolted out of her seat so forcefully that she left a crack when she hit the side of the cabin, AP news agency reports.
Following the incident on Tuesday, flight 967 was diverted to Denver where it landed safely and was met by medics.
'Thrown around'
A spokesman for the Federal Aviation Administration said 26 passengers and four crew members were injured, one of whom was critically hurt. He gave no further details.
The turbulence was "just a huge up and down," according to passenger Kaoma Bechaz, a 19-year-old Australian.
She told the Denver Post that the woman sitting next to her had hit her head on the side of the cabin, leaving a crack above the window, and a girl across the aisle flew into the air and hit the ceiling.
Ms Bechaz said she was not thrown around because her seat belt was tight.
The plane took off again from Denver later on Tuesday and completed its journey to Los Angeles International Airport, where relatives were waiting to greet the passengers.
It was the third time this year that passengers on a United Airlines flight were hurt because of turbulence.