US Senate votes to restore unemployment benefits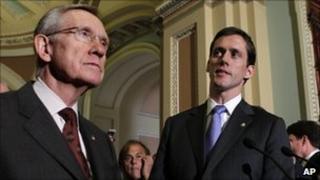 The US Senate has voted to restore the payment of unemployment benefits to 2.5 million Americans who have been out of work for over six months.
The bill passed by 59 votes to 39.
The programme had lapsed at the end of May after Republicans and Democrats could not agree on how to cover the $34bn (£22bn) cost of extending it.
The House of Representatives is expected to pass the legislation on Thursday before it is sent to President Barack Obama to sign into law.
In some states, unemployed people who have had their benefits cut off because of the stalemate in Congress over renewing them can expect payments as early as next week.
About half of those eligible have seen their payments stop since funding ended on 2 June.
The programme covers those who have been out of work the longest and for whom the usual 26 weeks of state benefits have run out.
Two Republicans, Senators Susan Collins and Olympia Snowe, joined almost all the Democrats in the Senate in voting for the legislation.
"The extension of unemployment benefits literally means bread on the table and a roof over the heads of millions of families around the country who have fallen victim to this recession," said Democratic Illinois Senator Richard Durbin.
Republicans argue that the country cannot afford the programme at a time of soaring deficits if it is not paid for by cuts elsewhere.
"Hard times require hard decisions and what we're seeing here is the easy way out," said Republican Senator Tom Coburn, from Oklahoma. "The easy way out is not to pay for this."
The vote came as lawmakers turn their attention to November's mid-term elections, in which Democrats are fighting to stay in the majority in Congress and the economy is expected to be one of the top issues.
The country's unemployment rate remains historically high at 9.5%.