Canada police arrest alleged G20 troublemaker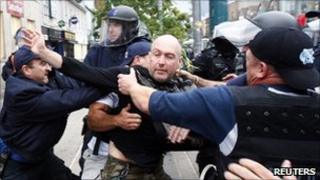 An Ontario woman who police allege was a ringleader for trouble at Toronto's G20 summit in June has turned herself in after police called for her arrest.
The 21-year-old allegedly vandalised shopfronts such as Urban Outfitters, American Apparel and McDonald's and now faces six criminal charges.
Kelly Pflug-Back's picture was among 15 new photographs of suspects presented by police in Toronto on Wednesday.
Ten people from a previous group of 18 suspects had been arrested by Tuesday.
Half of those 10 suspects turned themselves in, according to news website Canada.com.
The newly-accused group face 15 charges, not including those filed against Ms Pflug-Back.
Police say they hope to continue to identify those responsible for damage caused during the two-day summit last month, using 17,000 still images and video footage taken by the public.