Montreal port labour lockout looks set to end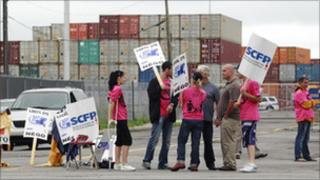 The port of Montreal is expected to reopen on Saturday morning after dock workers and shipping firms reached a tentative deal on pay and conditions.
The port shut on Monday when shippers locked out about 850 workers after labour talks broke down.
The longshoremen's union is to vote on Friday on the labour deal, and work is expected to resume on Saturday.
The port of Montreal connects the North American industrial heartland to Europe and beyond.
But it was quiet for most of the past week after the Maritime Employers Association locked out dock workers it said were using "pressure tactics", like work slowdowns, to protest against anticipated cuts in pay.
At issue was the shippers' effort to end pay to dock workers who were on call but not at port.
Details of the proposed agreement were unavailable on Friday morning, but the MEA, which represents shipping concerns, said the union had agreed to end "pressure tactics" and that the two sides would resume negotiations in October.
Longshoremen's union president Daniel Tremblay said the workers had obtained "very good" conditions and urged members to ratify the deal, the Globe and Mail newspaper reported.