Deepwater Horizon safety alarm 'shut off'' before fire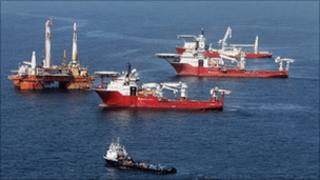 Alarms aboard the Deepwater Horizon oil rig that could have alerted workers to fire and explosive gas had been silenced before the 20 April explosion, a senior rig technician has said.
Mike Williams told a hearing that the alarms had been muted months before the blast because managers did not want workers disturbed by false alarms.
Rig owner Transocean said the alarms conformed to maritime rules.
The explosion killed 11 workers and caused an environmental disaster.
Mr Williams, a Transocean employee, was testifying before a joint hearing of the US Coast Guard and the interior department.
He was was the chief electronics technician on the rig, and was aboard when it exploded.
Mr Williams said that sensors meant to detect fire and toxic or explosive gases were functioning but the alarm had been "inhibited".
Senior managers "did not want people to be woken up at 3 o'clock in the morning due to false alarms", he said.
Transocean said the alarm configuration stopped the general alarm from sounding for what could be a minor, non-emergency issue.
"It was not a safety oversight or done as a matter of convenience," the firm said in a statement.
"Repeated false alarms increase risk and decrease rig safety."
Meanwhile, workers on ships at the site of the oil spill are making final preparations to leave as a storm approaches.