Ex-US judge pleads guilty to child prison scam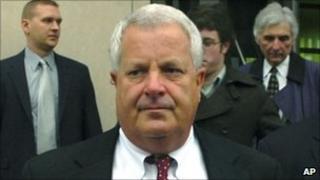 Former Pennsylvania judge Michael Conahan has pleaded guilty to a racketeering conspiracy charge for helping put juvenile defendants behind bars in exchange for bribes.
He is accused along with former judge Mark Ciavarella of taking $2.8m (£1.8m) from a profit-making detention centres. Mr Ciavarella denies wrongdoing.
The two pleaded guilty last year but a federal judge tossed out part of the plea agreement for being too lenient.
Conahan faces up to 20 years in jail.
US District Judge Edwin Kosik rejected the 87-month jail term set out last year in Conahan's agreement. Under that deal, the former judge would have been able to back out if he was dissatisfied with his sentence.
Judge Kosik has accepted Conahan's current plea agreement with prosecutors, which has no such get-out clause.
Cash for kids
Prosecutors in a federal court in Scranton, Pennsylvania, said Conahan had closed a county-owned juvenile detention centre in 2002, just before signing an agreement to use a for-profit centre.
Prosecutors say Mr Ciavarella, a former juvenile court judge, then allegedly worked with Mr Conahan to ensure a constant flow of detainees.
The two men were originally charged in early 2009 with accepting money from the builder and owner of a for-profit detention centre that housed county juveniles in exchange for giving children longer, harsher sentences.
A spokeswoman for the non-profit Juvenile Law Center alleges that Mr Ciavarella gave excessively harsh sentences to 1,000-2,000 juveniles between 2003 and 2006.
Some of the children were shackled, denied lawyers, and pulled from their homes for offences which included stealing change from cars and failure to appear as witnesses.
The indictment was part of a larger probe into corruption in Luzerne County, Pennsylvania, which has so far implicated more than 20 others.