Closing arguments to begin in Rod Blagojevich trial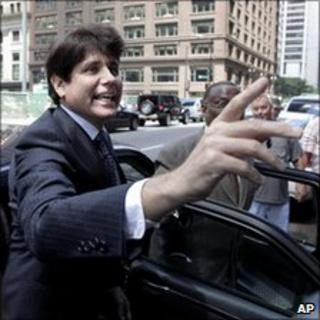 Closing arguments are to begin in the corruption trial of former Illinois Governor Rod Blagojevich.
Mr Blagojevich is accused of trying to use his office for personal gain - including an effort to sell President Barack Obama's vacant Senate seat - and attempted extortion.
The case turns largely on hours of conversations wire-tapped by the FBI.
The defence says Mr Blagojevich's talk was mere bluster, arguing prosecutors have not proven he committed crimes.
Mr Blagojevich, a Democrat, was ejected from office by the Illinois state legislature in January 2009.
Prosecutors say Mr Blagojevich, in a desperate attempt to shore up his shaky family finances, threatened to withhold state business from companies that did not hire his wife and conspired to benefit from his authority to hand out state contracts and appointments.
'He's broke'
In the most lurid accusation, Mr Blagojevich is accused of trying to win a high-paying job or government position for himself in exchange for an appointment to the US senate seat that Barack Obama left when he was elected president.
He is also accused of wire fraud and others charges which relate to demanding donations from potential campaign contributors in exchange for favours.
If convicted, he could be sentenced to 415 years in prison and ordered to pay fines of $6m (£4.1m).
While prosecutors have said Mr Blagojevich was on a "political crime spree", his defence team is expected to argue that Mr Blagojevich talked a lot but actually did little.
"He didn't take a dime - he's broke," defence attorney Sam Adam Jr told the Associated Press.
"Did he talk a lot? Certainly. Did he use foul language? For sure... But what dollar did he take? Who did he shake down? What did he do that was illegal? Nothing."