Iowa lake drains after dam bursts amid heavy rains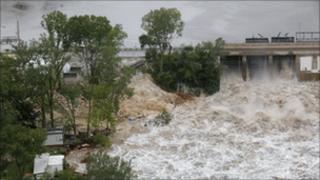 A nine-mile-long Iowa lake has disappeared after heavy rains led a dam holding back its waters to collapse.
Lake Delhi in eastern Iowa drained through the breached dam within hours on Saturday, flooding a nearby town.
Governor Chet Culver has vowed to aid homeowners whose once lakeside homes now overlook a stinking, muddy pit.
The authorities say curiousity seekers and treasure hunters venturing onto the vast, drying lake bed risk infection, broken bones and other hazards.
The 92-year-old Lake Delhi dam failed on Saturday, destroyed by rising water from the Maquoketa River.
"There was just more water than it was designed for," Jon Garton, a dam safety engineer for the state Department of Natural Resources, told the Des Moines Register newspaper.
The subsequent flooding in the nearby town of Monticello caused millions of dollars' worth of damage.
Mr Culver has pledged federal and state aid to help rebuild the dam and restore the lake.
About 900 homes were built on the lake front.