Retrial ordered in Warren Jeffs polygamous US sect case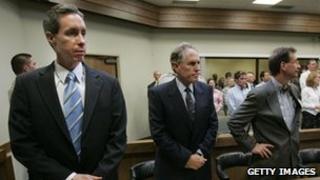 The Utah State Supreme Court has overturned the rape convictions of polygamous US sect leader Warren Jeffs and ordered a new trial.
Jeffs, 54, was convicted in 2007 of two counts of first degree rape after he had arranged the marriage of a 14-year-old girl to her 19-year-old cousin.
The court said jury instructions on the girl's consent had been "in error".
Jeffs was serving two consecutive terms of five years to life in Utah State prison.
He is the head of the Fundamentalist Church of Jesus Christ of Latter Day Saints, a breakaway sect of Mormonism and based on the border between Utah and Arizona.
He also faces criminal charges in Texas.
Before his arrest in 2006, Jeffs had been on the run for 15 months and was on the FBI's 10 "most wanted" fugitives.