BP's Tony Hayward to skip US Senate Lockerbie hearing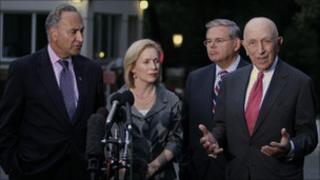 Outgoing BP boss Tony Hayward will not testify at a US Senate hearing on BP's role in the release of Lockerbie bomber Abdelbaset Ali al-Megrahi.
Senator Robert Menendez of New Jersey, who is to lead the hearing, said he had been notified by BP of the decision.
He rebuked the company for not answering "serious lingering questions about whether the company advocated trading blood for oil".
Some have suggested BP wanted Megrahi released to curry favour with Libya.
The Scottish government, which released Megrahi last year after doctors said he was dying from prostate cancer, has denied it had any contact with BP before deciding to free him.
The company, which has said it will replace Mr Hayward with American executive Bob Dudley from October, may send someone else in Mr Hayward's stead, Reuters news agency reported.
'Thin ice'
It was unclear whether the Senate Foreign Relations Committee would accept a replacement.
"I would have thought that a company on thin ice with the American people for devastating the Gulf Coast would want to fully co-operate with our effort to fully understand the release of a terrorist who murdered 189 Americans," Senator Menendez said in a statement.
"Though it may be convenient for BP to move Mr Hayward out of his position, it does not change the need for answers.
"I will continue to request his presence at the hearing. The bottom line is that we need to hear from BP officials at the highest levels who had significant contact with both the Libyan and British governments - by all accounts, Mr Hayward best fits that bill."